Limited Time Offer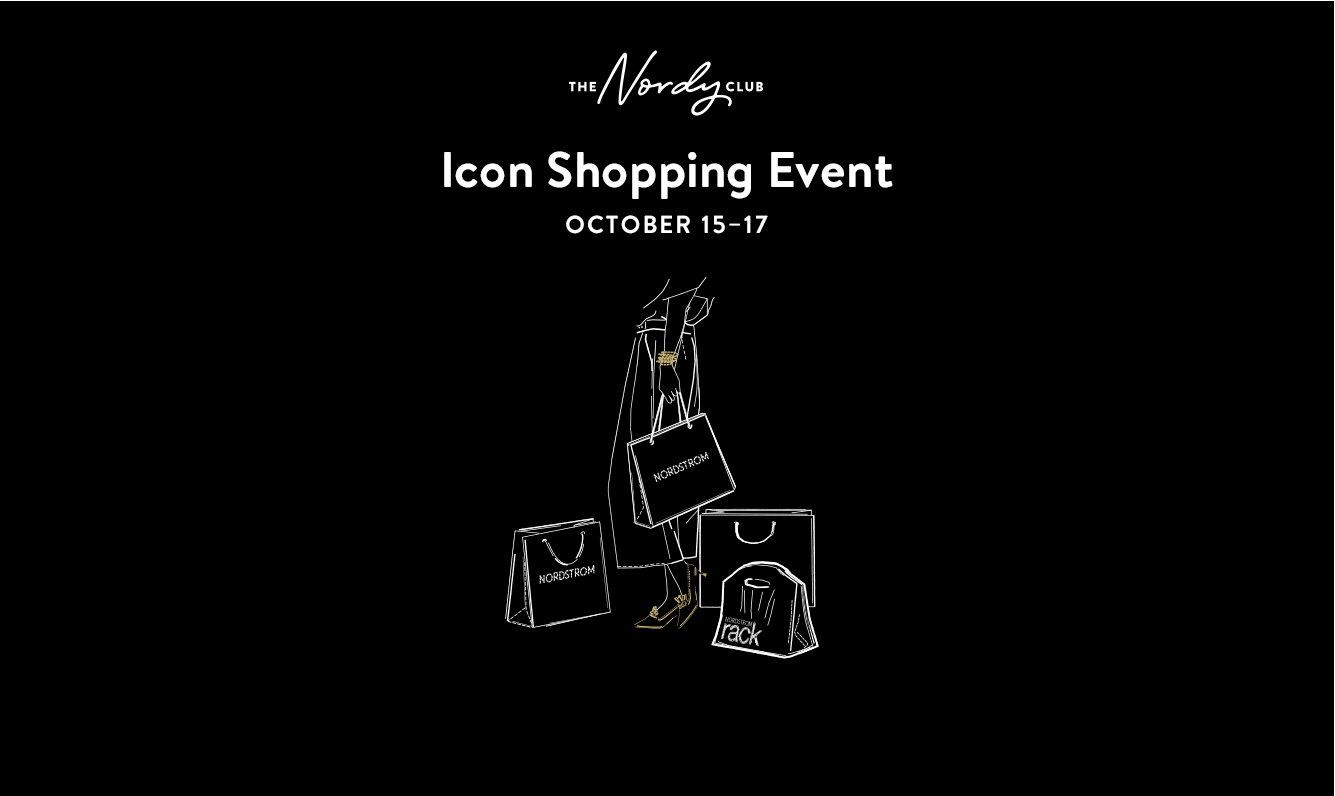 Every year, we celebrate our Icons with extra rewards and exclusive experiences. It's your chance to shop and get inspired for the season ahead.

EARN 10 POINTS PER DOLLAR*
October 15–17
Shop with your Nordstrom card online or in U.S. stores at Nordstrom or Nordstrom Rack.

Special Gift
Keep an eye out for an exclusive gift coming your way!

ICON PRIVATE SHOPPING EVENT
At selected Nordstrom stores.
October 17**
Earn bonus points while you enjoy live music and a private shopping experience. Bring a friend to join in the fun!†

Ride in Style
Icon cardmembers get a credit for a Lyft ride to the event with a Lyft Pass.†† Just RVSP to an event and we'll send you a code in a reminder email closer to the event. Go to lyft.com/rider/lyftpass to learn more about how to use your Lyft Pass code.
For questions or special accommodations info, call Icon Customer Care at 1.888.499.0649.

Create Your Own Shopping Experience
No event in your city? Book an appointment with a Personal Stylist for your very own
shopping event in stores or online.
*This offer is nontransferable and tied to your rewards account. Limited to Nordy Club Icon cardmembers. Offer available in stores at Nordstrom or Nordstrom Rack in the U.S. or online at Nordstrom.com or Nordstromrack.com between 9pm PT on October 14, 2021, and 11:59pm PT on October 17, 2021. Qualifying spend does not include charitable donations, services, online purchases of gift cards, or purchases of Louis Vuitton, Chanel apparel and accessories, other selected designer items and stand-alone vending machines. Any amount of the net purchase that is paid for with gift cards or Nordstrom Notes will be deducted from the qualifying spend amount before the reward is calculated. Cardmembers must use their Nordstrom card for purchase to get 10 points per dollar. Bonus points earned during this event cannot be combined with a Personal Double Points Day. For complete program details, go to nordstrom.com/nordyterms.

**Icon private shopping event for Nordstrom Garden State Plaza is on October 16.

†Guests of Icons will earn at their own individual earn rate.

††Eligibility for the Lyft Pass may be dependent upon geographic location. Your Lyft Pass will be valid for round-trip travel to the event you RSVP to for a timeframe of 2 hours before the event, during the event and 2 hours after the event. Pass is valid for $75 each way, to and from the event. For rides over $75, the rider must cover the difference.