SUNGLASS STYLES & FIT: FINDING THE RIGHT PAIR
Sunglasses protect your eyes against ultraviolet rays and add just the right amount of flair to any look. But picking the right sunglasses for your face shape can be difficult with so many different styles out there. You may be tempted to simply follow the trends, but choosing a sunglass style is more personal.
Shades that suit you depend on a number of factors: face shape, personal style, lens color and where/when you intend to wear them. Ahead, a cheat sheet with tips for how to choose sunglasses and everything else you need to know about this essential accessory.
Sunglass Styles
Frame shape plays a key role in how sunglasses fit your face. Below is a quick guide to the main sunglass styles.
Aviator
This pilot-inspired style has teardrop lenses that were originally designed to block the sun's rays from all angles. Aviators have a large field of vision and are usually made with a metal frame.
Cat Eye
Cat-eye sunglasses have upswept angles that are feminine and retro. Old Hollywood icons, such as Marilyn Monroe and Audrey Hepburn, favored this style for its classic yet glam allure. This shape has made a comeback, becoming a very popular sunglass style for women.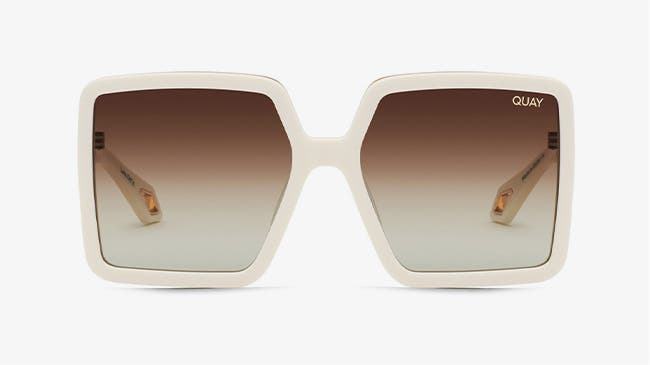 Oversized
Oversized sunglasses typically come with oval or square lenses and thick frames. They nod to the '70s and bring instant drama to a look.
Round
Round sunglasses accentuate the cheekbones well and can help fill out the lower half of your face. The iconic silhouette is simple in design and helps to balance out natural angles.
Square
This is one of the most versatile frame styles and features thick, boxy lines. Square sunglasses have sharp angles that give definition to those who have softer facial features.
Wayfarer
Wayfarers have a '50s-inspired shape with a broad upper rim that goes out to a point. Their angular lines balance out full cheeks and less-defined features.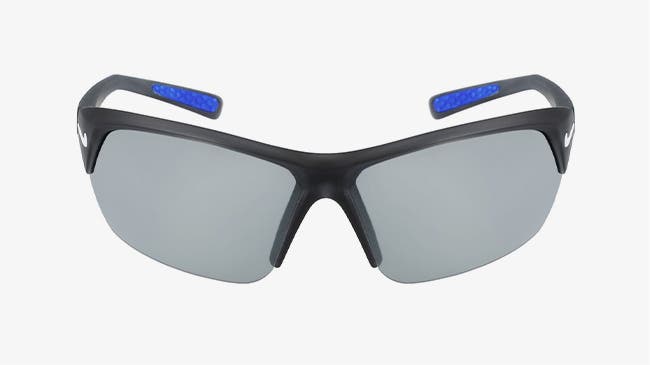 Sport
Sport sunglasses are sleek, edgy and typically lightweight. They have a wraparound frame that tapers out at the temples to shield your eyes from sun glare at all angles.
Types of Lenses
Certain types of lenses protect your eyes in different environmental conditions as well as reduce sun-related health risks, such as skin cancer and photokeratitis.

Lens Treatments
Keep in mind that darker lenses do not equal higher ultraviolet (UV) protection, so look for lens treatments and colors that best suit your needs.
UV Protection: Your eyes can absorb damaging UV rays without proper protection, eventually causing premature aging and eye-related health problems. Always look for UV-rated lenses.
Polarized: This lens treatment blocks glare while enhancing clarity, color and depth perception. It's ideal for all outdoor activities, especially water and snow sports.
Mirrored: The reflective coating on mirrored sunglasses absorbs light, reducing glare and hiding your eyes.
Gradient: A gradient lens treatment goes from a darker tint to a lighter tint, allowing for comfortable vision over a wide range of distances and lighting conditions.

Lens Colors
Different lens colors make your eyes react differently to varying types of light. Find out which colors work best for your favorite activities and conditions.
Grey: Grey lenses reduce glare and show true colors. They're ideal for everyday use, especially driving and outdoor activities.
Brown: This color tint improves contrast and contains a red element to enhance depth perception. Perfect for golf, tennis or boating, brown lenses help your eyes judge distances.
Yellow: Yellow lenses enhance contrast, providing greater clarity in low light conditions. They're a great choice for skiing and mountain biking but not so great for anything that requires accurate color perception.
Green: This colored lens transmits all colors evenly, so it's close to natural eyesight. Green lenses are good for general-purpose use and all outdoor activities.
Pink & Red: These hues enhance visual depth and reduce eyestrain. They're ideal for water sports because they provide a contrast against blue or green backgrounds.
Best Sunglasses for Face Shape
Understanding your unique face shape is the main trick to finding your perfect pair of shades. To start, choose a style that offsets the lines and angles of your facial features. Investing in classic sunglass shapes that you can wear for years is a good strategy as well.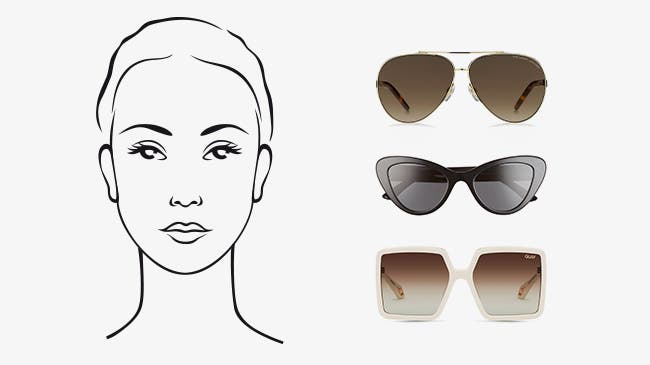 Sunglasses for Oval Faces
Your face has symmetrical features, and your jaw tapers evenly to your chin. Almost any style looks great on you, so take your pick! Popular styles include aviator, cat eye, oversized, round, square, wayfarer and sport.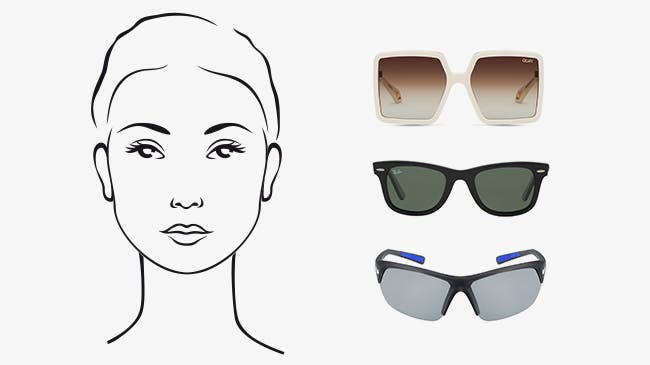 Sunglasses for Round Faces
Your face is almost as long as it is wide, with your cheekbones being the widest point. Angular frames that structure your face are the most flattering on you. Try square, wayfarer or sport frames for the perfect fit.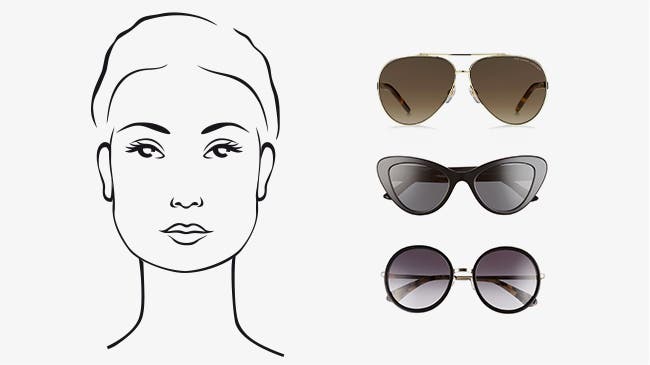 Sunglasses for Square Faces
Your jawline is prominent, and your face is the same width at your forehead and across your cheekbones. Look for curved frames that balance your angular lines, such as aviator, cat-eye, round and oversized styles.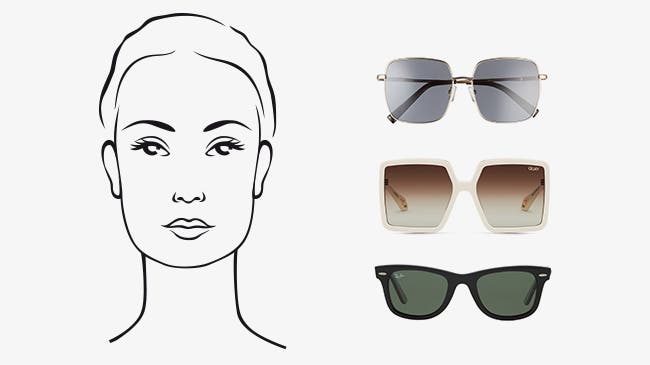 Sunglasses for Oblong Faces
Also known as rectangular. You have a rounded jawline, and your face length is larger than the width of your cheekbones. Opt for square, oversized or wayfarer sunglasses that will add width to your face.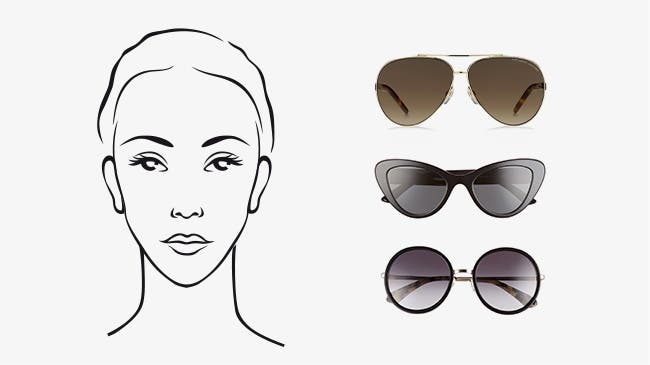 Sunglasses for Heart-Shaped Faces
Your face is widest at the cheekbones and narrowly tapers to your chin. Sunglasses that bring attention downward—including aviator, cat-eye and round styles—will help elongate your face.
Measuring for the Right Fit
If you have glasses that fit you perfectly, take those dimensions and use them to ensure your new ones fit just as well. The measurements are often written as three consecutive numbers on the arm of the glasses: bridge width, lens width and temple length. It's easy to measure them yourself if they're not shown—just remember to use millimeters!

Bridge Width
The bridge width is crucial to fit, as it measures the distance between the lenses and determines how the glasses will rest on your nose. Smaller measurements suit narrower bridges and vice versa. Average range: approximately 14mm-24mm.
Lens Width
The lens width is taken from the outermost edge of a single lens to its inside edge. This measurement indicates how much of your eye will be covered. Average range: approximately 40mm-62mm
Temple (or Arm) Length
This is the length of each temple taken from the tip of the arm to the hinge that connects to the lenses. Average range: approximately 120mm-150mm.
Now you're ready to explore sunglass styles and find your perfect pair. Focus on building a collection of silhouettes that flatter your face and can be rotated throughout the seasons for year-round protection.