Ethical Labor Practices
Ethical Labor Practices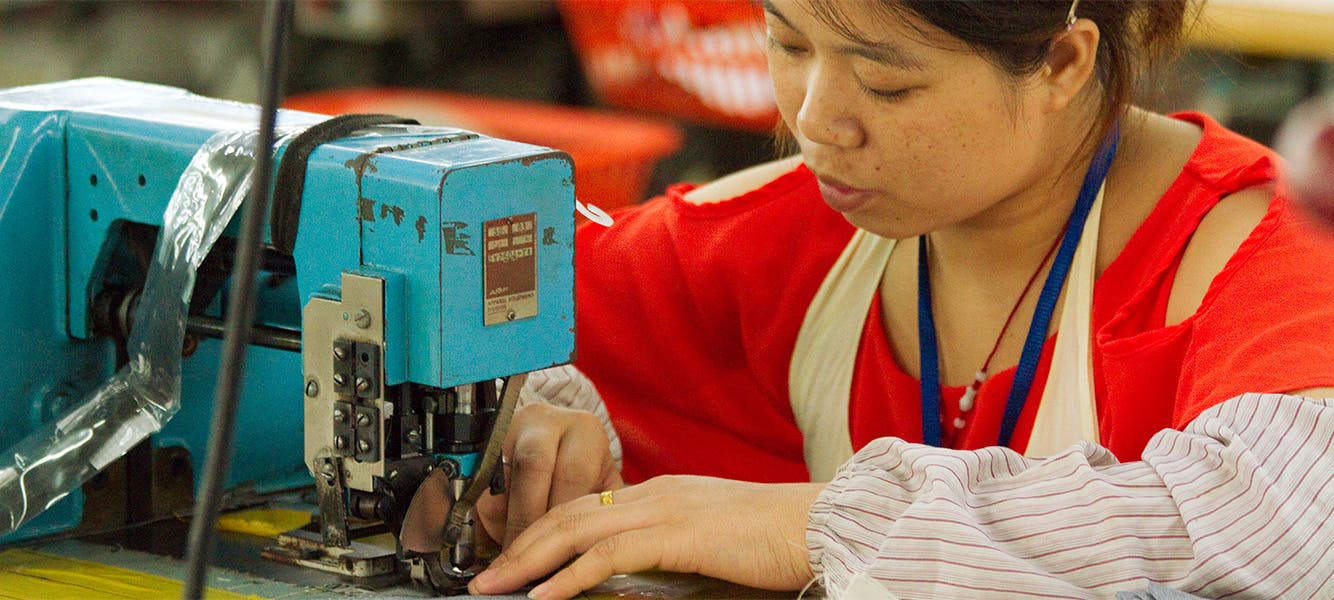 Ensuring Ethical Labor Practices
Our commitment to transparency is core to our Corporate Social Responsibility efforts. Nordstrom Made, our family of private-label brands, has production in hundreds of factories each year, and we disclose our suppliers' names and locations as part of that commitment to transparency. View our factory list, which represents our suppliers as of July 31, 2021. This list is limited to our most strategic suppliers and should not be construed to represent all of our suppliers around the world. This list is also subject to change.
We partner with organizations like Better Work and BSR's HERproject to receive and respond to feedback from the people who work in factories where our products are made. Better Work helps us gain insight into a factory's continuous improvement efforts. Through this partnership, we can better understand systemic challenges and local context that impact factory workers and management. HERproject is a women's empowerment initiative that strives to improve the lives of low-income supply chain workers. Since 2007, Nordstrom and HERproject have launched worker empowerment training programs in 44 factories around the world. The trainings are focused on topics like health, finances, communication and literacy.

By 2025, our goals are to:

Disclose traceability to the factory for 90% of Nordstrom Made products.

Ensure all suppliers and business partners adhere to the Nordstrom Partner Code of Conduct.

Ensure 100% of Nordstrom Made strategic suppliers pay a living wage.
Training
To ensure our NPG employees are familiar with our Partner Code of Conduct, they participate in an annual training. This training is also required for all NPG suppliers.
We also offer an eLearning program to factories that focuses on topics like excessive working hours, worker engagement, supply chain management, and wages and benefits. Factory management and staff take the trainings as part of their improvement plans.
Factory Audits & Remediation
As a first step toward sustainable change for systemic issues, and to mitigate human rights risks in our supply chain, we conduct semi-announced audits of the factories that make NPG products to ensure compliance with our Partner Code of Conduct. These audits include an in-person, full factory inspection, including dormitories if offered, and worker interviews. Audits always take place before we begin production with a factory and on a regular, ongoing basis. The timing between ongoing audits ranges from six months to three years, based on when a factory was most recently audited, the level of support the factory requires to meet compliance challenges and the risk level due to its location. In high-risk countries, a Nordstrom Customs Trade Partnership Against Terrorism (CTPAT) is conducted.
When issues are found during an audit, our team works with factories to develop and implement a remediation plan, along with a timeline for change. Most issues found in audits are minor health and safety issues, which can be remedied quickly. For example, if the auditor finds that boxes are blocking an aisle, this issue can be resolved within 24 hours. If we learn that wage records do not separate standard hours from overtime hours or other benefits, we create a remediation and continuous improvement plan to ensure all hours worked are recorded, with types of pay and benefits itemized accurately.
There are times when an audit may reveal more critical issues that we categorize as zero tolerance. In those instances, Nordstrom will immediately stop production with the factory until the situation is resolved. If a factory is unwilling or unable to address a zero-tolerance issue, we will stop working with them altogether. Whenever we make the difficult decision to leave a factory, our team continues to work with and provide resources to that factory for an additional six months to help its leaders address the issues that triggered our exit.
After an audit is completed, the factory receives an overall rating based on the number and severity of issues found. The NPG team works with the factory to improve all issues by requesting records and photo verification of improvements until the corrective action plan is complete.
NPG typically makes up a small portion of a factory's overall business. To make audits more efficient for our suppliers, and to help ensure any necessary improvements are made, we look for opportunities to collaborate with other manufacturers and retailers doing business in the same factories as Nordstrom. This also helps lower costs for our suppliers by reducing the number of audits conducted at their factories.
Branded Vendors & Industrywide Initiatives
We work with our branded vendor partners to ensure they're producing their items in responsible and sustainable ways. We require that each of our vendors adheres to our Partner Code of Conduct, which outline the requirements we have for them around employment, workers' rights, environmental standards and work environments.
Because NPG is small compared to other manufacturers, we find value in partnering with other manufacturers within factories and through industrywide initiatives.
Some of our partnerships and programs include:
Responsible Recruitment Commitment
In November 2018, Nordstrom signed the Commitment to Responsible Recruitment, an industry effort to address potential forced labor risks for migrant workers in the global supply chain.
Nordstrom's private-label division is committed to working with global supply chain partners to create conditions that ensure:
No workers pay for their job. This includes costs associated with recruitment, migration and employment.
Workers retain control of their travel documents and have full freedom of movement. Workers have the right to maintain custody of their personal identity documents whenever they are not needed to meet legal requirements.
All workers are informed of the basic terms of their employment prior to leaving home. Workers will be provided with documentation or training to help them understand the workplace environment, the job role they are committing to and the terms and conditions of work before accepting the position.
Nordstrom works continuously with any suppliers that employ foreign migrant workers to understand how to best manage the challenges and to ensure that all communication and paperwork is understood prior to any worker leaving their country to start their job.
Please refer to our Partner Code of Conduct and our Factory Guide for all our requirements when working with Nordstrom Product Group and all Nordstrom Made products.
Risk Assessment & Management
We work across our business and with external experts and partners to identify and prioritize risks and opportunities related to our social responsibility and environmental sustainability impacts in our operations and in our supply chain, including with our suppliers and their employees.
We conduct materiality assessments and other risk assessments regularly, with input from human rights and sustainability experts, customers, employees and other stakeholders. We assess new risks and opportunities as circumstances arise and as we continue to learn more about the global impact of our business and our industry.
Through our Human Rights Commitment and our Nordstrom Partner Code of Conduct, we're taking steps to manage risks, including forced labor, harassment and abuse, discrimination, wages and benefits, hours and overtime, child labor and young workers, health and safety, fire and building safety, freedom of association, grievance mechanisms, subcontracting and more.
Communicating with Stakeholders
We communicate risks, feedback and progress using channels that are relevant for a given stakeholder group. We regularly share information in ongoing meetings with our executive leaders and Board of Directors, including program updates, reporting and external feedback. We share information with customers through public reporting and on our website. We communicate with suppliers and other business partners directly, including through email, by phone and through in-person and online meetings. This includes communicating throughout our remediation process, through which we provide resources to suppliers to support sustainable changes related to any social or environmental issues identified through our auditing process.
Our employees, customers, suppliers, agents and communities have access to our anonymous ethics hotline, which is accessible in more than 80 languages. In 2019, we received 243 submissions and closed 163 of them. The remainder are active/ongoing.