Human Rights
Human Rights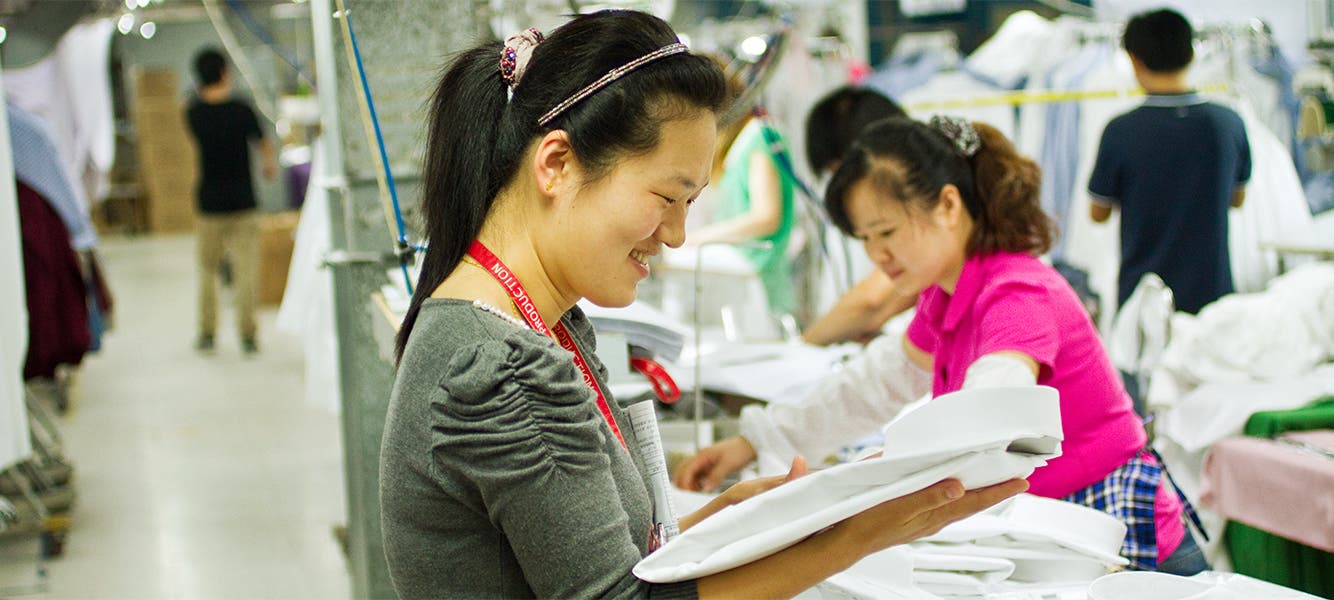 Respecting Human Rights
Our community support extends to the health, safety and human rights of all people, including our customers, our employees and those who make the products we sell. Our Human Rights Commitment outlines what this means for us and our business.
When it comes to the people who manufacture Nordstrom Made products for Nordstrom Product Group (NPG), we partner with factories around the world to help ensure all the workers who produce our products have a safe and healthy work environment.
Nordstrom seeks suppliers that share our commitment to producing quality products through ethical business practices. Every supplier we work with receives a copy of and commits to following our Partner Code of Conduct, which outline the requirements we have for suppliers around employment practices, workers' rights, environmental standards, work environments and applicable local laws.
Supporting ethical working practices and women's empowerment are our human rights priorities.

By 2025, our goals are to:

Ensure 100% of Nordstrom Made strategic suppliers pay a living wage.

Disclose traceability to the factory for 90% of Nordstrom Made products.

Ensure all suppliers and business partners adhere to Nordstrom Partner Code of Conduct.

Produce 90% of Nordstrom Made products in factories that invest in women's empowerment.

Provide grants to organizations that support women's empowerment to create additional resources within our global supply chain.
Statement on Xinjiang
We are deeply concerned about reports of forced labor in and connected to the Xinjiang Uyghur Autonomous Region (XUAR) of China. Forced labor is an egregious violation of Nordstrom standards and expectations, including our zero-tolerance policy for forced labor. In light of this, and in alignment with the Uyghur Forced Labor Prevention Act passed by the U.S. Government, Nordstrom does not knowingly source products from the XUAR and has communicated to all suppliers the expectation that they take the appropriate steps to ensure that none of the products provided to Nordstrom use or benefit from forced labor.

We do not tolerate forced labor and are taking steps to ensure our supply chain is free from forced labor of any kind. These measures include strengthening the protections against forced labor outlined in our Partner Code of Conduct , and introducing a new forced labor policy, which aims to clarify forced labor expectations for our suppliers. We will also implement training to better equip our employees to protect against forced labor. Additionally, we are in the process of designing a traceability program that will enable us to trace the products we create to the farm level. We will also use technology to digitally trace the flow of products throughout our supply chain and identify commercial networks, subsidiaries, and affiliates with potential links to forced labor.

We continue to conduct and have strengthened our due diligence efforts. We've launched a Human Rights Impact Assessment and a Forced Labor Impact Assessment, led human rights experts Article One Advisors. These assessments will help us take an evidence-based approach to identifying and improving protections for salient human rights and forced labor risks throughout our supply chain. In addition, we regularly audit our Nordstrom Made factories to confirm they meet our ethical standards, including our zero-tolerance policy regarding the use of forced labor anywhere in the world.

Moving forward, we will continue to communicate directly with our partners to ensure alignment and compliance with our business expectations and standards and collaborate with industry experts, partners, and stakeholders to address this important issue.
Show
About Human Rights
We place tremendous value on all the workers who make up the Nordstrom experience, from our salespeople to our corporate employees to the people who make the products we sell. Protecting employee rights and promoting safe and healthy work environments are cornerstones of our approach to corporate social responsibility. We're committed to respecting all people's human rights and supporting ethical business practices. We're proud to partner with BSR's HERproject to launch worker empowerment programs in factories around the world, with particular focus on women's rights and women's empowerment. HERproject trainings reach more than 18,000 people manufacturing Nordstrom goods, and they focus on health and financial literacy as well as communication and leadership skills. In addition to supporting factory workers directly, this program also benefits workers' families and communities, effectively spreading knowledge that's valuable to all.