Affiliate Program
Become a Nordstrom Affiliate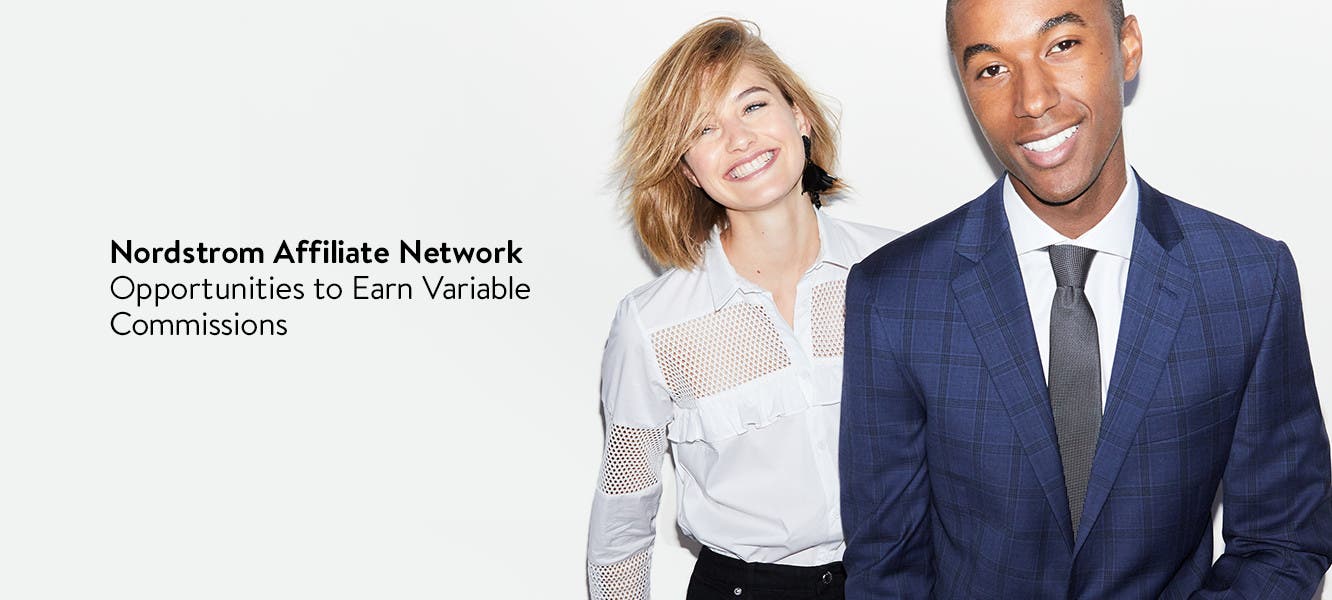 We aim to create a mutually beneficial partnership to reach our business goals. We look forward to partnering and collaborating with you.
Get started by filling out our partner application. Apply now.
Advertise
Put our fashion expertise, legendary service, high-demand products and exclusive offers to work.
Fresh Creative: Banners and links for multiple categories, sales and events.
Product Depth: Ted Baker London to Nike. Topshop to Valentino. Our assortment spans diverse prices, trends and brands; choose product advertising that fits your audience the best.
Exclusive Offers: Stand out with customer-favorite and need-to-know brands, unique offers, seasonal events and Nordstrom-exclusive products.
Promotional Benefits: Promote the benefits that our customers love:
Free shipping. Free returns. All the time.
Buy Online & Pick Up in Store, Curbside Pickup, Same-Day Delivery, and Expedited and International Shipping.
Free Personal Stylists.
Professional Alterations and Tailoring.
Nordstrom Rewards.
Legendary customer service.
Earn
Earn commission with a program designed to help our Affiliate partners succeed.
Marketing Expertise: Receive Affiliate newsletters from the Nordstrom marketing team featuring top categories, brands, upcoming promotions and more.
Join
We make it simple—and there's no cost to you.
Easy Setup: Getting up and running is a snap. We'll provide step-by-step directions.
Nordstrom Affiliate Program FAQ
Why become a Nordstrom, Inc., Affiliate?
Becoming an Affiliate enables you to offer your customers extra value. Your Affiliate link provides easy access to high-demand products and Nordstrom's legendary customer service. In turn, you'll receive a monthly commission check for all eligible sales generated by referring visitors to our site. Nordstrom, Inc., handles all processing, fulfillment, shipments and customer service for these orders. After setting up the Affiliate links, all you have to do is collect your check. You'll also have 24-hour online access to traffic and sales statistics through Rakuten Affiliate Marketing.
How do I become an Affiliate?
We've partnered with Rakuten to help maintain our Affiliate program. Please read our Affiliate Agreement and the Rakuten Membership Agreement at the bottom of the application page. Visit https://rakutenmarketing.com/affiliate or apply online. After reading the Membership Agreement, you'll need to fill out a brief application where you will indicate your acceptance of the terms. We'll let you know via email whether or not your site has been accepted into the program.
Is my site eligible to become a Nordstrom, Inc., Affiliate?
Nordstrom, Inc., works with a limited number of high-quality sites. We reserve the right to refuse any site that does not meet our quality and content standards. For more information, please read our Affiliate Agreement.
What does it cost to become an Affiliate?
Nothing. Applying to and participating in our Affiliate Program is completely free. We do not impose an application fee or a minimum sales quota.
How do you track the sales referred by my site?
We've partnered with Rakuten to manage our Affiliate Program and to handle reporting. When a visitor clicks the affiliate link on your site and makes a purchase at Nordstrom.com, Rakuten keeps track of that sale. Rakuten will make reports available on how your links are performing and how much commission you're earning.
How and when do I get paid?
Commission checks are issued monthly. If commissions from your site do not exceed $25 during the month, the commission will accrue and appear in the subsequent month. You are responsible for any taxes associated with commission fees.
What products are eligible for commission?
All products available online at Nordstrom.com, except for Gift Cards, are eligible. When customers referred by your site make a purchase, you earn a commission.
For further questions, please contact us at affiliates@nordstrom.com.