Real Weddings: Cirilia and Elliott
Real Weddings: Cirilia and Elliott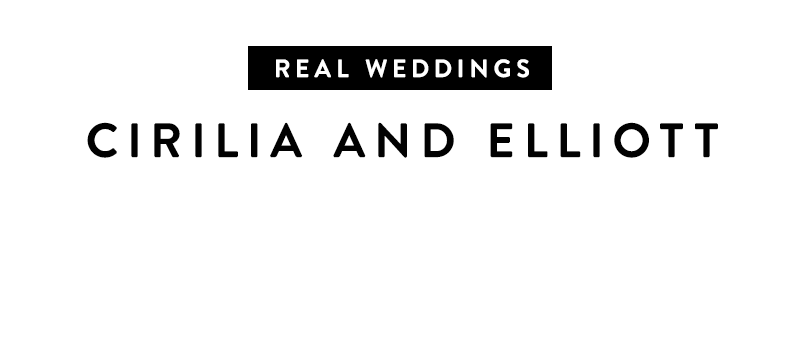 A courthouse ceremony followed by a reception at one of Seattle's premier fine-dining institutions was the perfect mix of high and low for this happy couple.
By Tessa Trudeau
Not every bride dreams of a big to-do for her future wedding day. "I didn't think I was much of a wedding person," admits Nordstrom Beauty Editor Cirilia Rose. After weighing options that ranged from a backyard soiree to eloping, she and now-husband Elliott Gray decided on something that was just right for them. "I'm a big believer in a high/low mix, which is why we went from the courthouse to one of Seattle's most acclaimed restaurants for the reception." Another high/low element? Her Simone Rocha dress paired with laid-back patent Oxfords.
Rose shares more about the "I dos," the dress and, of course, her beauty look for their special day.
When and where were you married?
May 24, 2019, in Seattle, Washington. We had a rooftop Municipal Court ceremony with a reception afterward at Canlis, an upscale restaurant in the Queen Anne neighborhood.
How did you choose your venue?
I remembered hearing that the Seattle courthouse would let you hold your ceremony on the roof if the weather was decent. Late May is usually lovely in Seattle, so we decided to chance it. It was a trip sending my bouquet and clutch through a metal detector, but once we arrived in the waiting area, I knew we'd made the right call. There were so many couples waiting to get married alongside friends and family. It was chaotic but in the best way, and I especially loved seeing everything from Indian saris to soldiers in uniform.
Canlis is a Pacific Northwest classic, surrounded by trees and views of Gas Works Park (made famous in the movie 10 Things I Hate About You), Lake Union and the snowy Cascades. Elliott and I first bonded over the TV show Mad Men and let's just say, the Drapers would not look out of place sidled up to the bar at Canlis.
Tell us about your dress. How did you know it was the one?
I originally was considering a backyard ceremony and reception and had found what was a perfect sundress from Free People, a mix between a Regency gown and a 1940s shirtdress with puffed sleeves, a plunging neckline and lots of tiny buttons at the waist. Then, I was on the escalator at Nordstrom and spotted a Simone Rocha dress in SPACE, my favorite spot in the store. It was romantic with a bit of a goth edge and a mixed media approach that included a bit of everything—metallics, brocade and lace with chunky crystal beading on the neckline.
Besides the pockets, my favorite details were the long black bows at each shoulder. They blew in the wind on the rooftop and made me feel like some kind of dramatic anime character. I swore I'd sell it afterward but I'm having a hard time letting go. It's a work of art!
What about your accessories?
All I had to add was the beaded headband—also Simone Rocha—and patent leather Oxfords with gold detailing by AGL, both from Nordstrom. Elliott mostly wore things he already owned, but I did pick up a new Nordstrom tie with some golden embroidery that mimicked a floral motif on one panel of my dress, our secret sartorial link.
And of course, we have to know about your hair and makeup.
While I was definitely tempted to try and do my own hair and makeup, I knew that the day would demand professional skill (read: budgeproof airbrush foundation and expertly applied false lashes). I did have a hard time committing to a look since I'm inspired by absolutely everything. We tested a classic smoky eye but then the Game of Thrones finale happened and I suddenly wanted to add Sansa's blotted berry lip color, and maybe some Lime Crime rose-gold glitter hairspray, too, because why not? And I used at-home chemical peel pads by Dr. Dennis Gross leading up to it.
What was the most memorable part of the wedding?
Our officiant was incredible. That was a huge unknown for us, and honestly kind of stressful. You basically show up, take a number and wait to be called. We were very nervous that we might not even be able to get married on the day we selected, but we were the first couple called.
The Honorable Judge Faye Chess met with us briefly and read a few vow options that she could customize. During the ceremony, she mentioned "maturing alongside each other, while retaining our independence," which fits us perfectly. When we were signing paperwork afterward, she said "Now, all I have to say is … y'all's married! All you have to do is love one another." I cracked up and spontaneously high-fived my new husband. Like I said, a courthouse wedding is a party!

Any advice for brides-to-be?
There were a few moments where we considered eloping, or just scrapping the ceremony. I'm a Seattle transplant with family strewn far and wide and it was asking a lot for them to travel out, but it was so wonderful to have everyone in one place for a few hours. So, persevere—all of the planning will be worth it.
Where will the honeymoon be?
Japan was high on the list but I just binge-watched Outlander and am now angling for Scotland with a stopover in Iceland.