Hayley Paige's Interview
Hayley Paige's Interview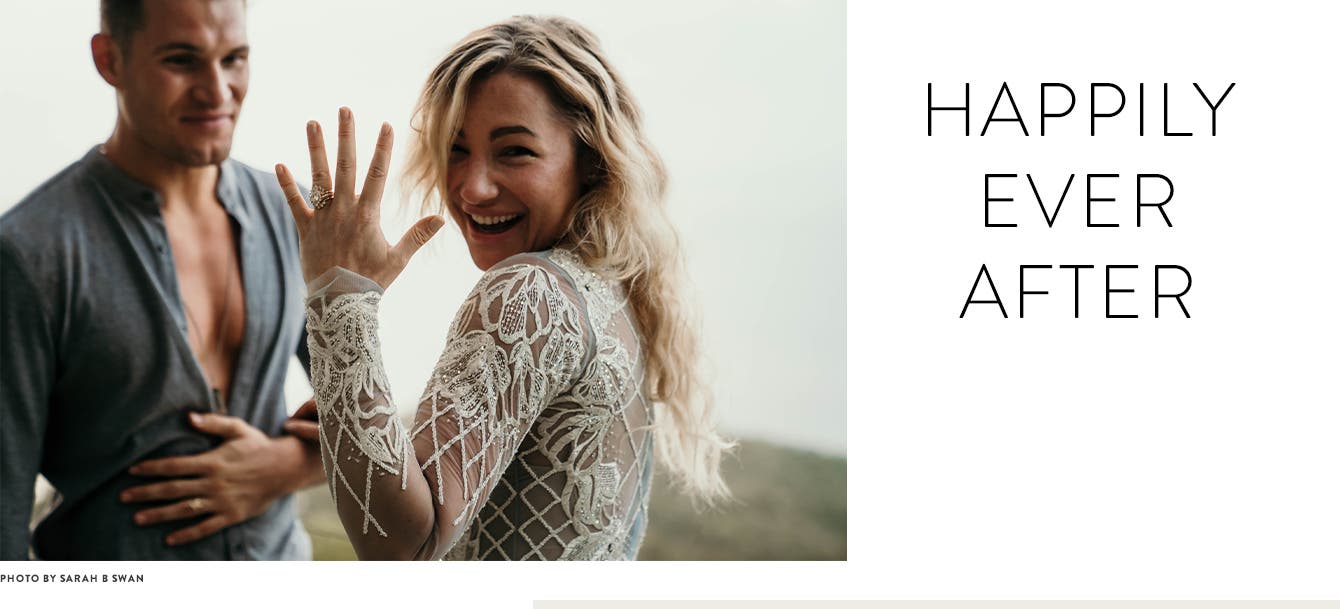 Bridal designer Hayley Paige on finding love again, the ultimate proposal and her best tips for picking the dress of your dreams.
By Tessa Trudeau

When wedding dress designer Hayley Paige jetted off to the Caribbean this summer with her boyfriend of a year-and-a-half, she couldn't have imagined that she'd come back engaged. But from the start of their relationship, the New York-based couple knew they had something special.
Paige's now-fiancé, personal trainer Conrad Louis, designed a custom ring and pulled out all the stops to pop the question, and he had the perfect plan to pull off the surprise flawlessly. "I love this story and I will tell it forever and ever!" says the bride-to-be of the magical day. She gives us the play-by-play on how it all went down and what to expect for their future wedding, as well as what bridal trends to watch for this season and how to find the perfect dress.
You recently got engaged, congrats! Where did Conrad pop the question?
We got engaged in St. John, one of our favorite spots. It was actually the first vacation we ever went on together, so it was very meaningful for me.
What was his cover story?
Conrad had been in the works planning this for about six months and was also orchestrating a bunch of other things to throw me off course. He left it up to me to decide where we wanted to go on vacation together over the summer, so I figured it was me making these decisions!
He's in the process of launching a new fitness plan and has been doing a bunch of content shoots where he hires photographers to come in and take pictures. So he told me that he had set up a photographer in St. John for us to take really pretty content photos and to bring a bunch of my red carpet dresses. He's the type of guy that always plans little surprises and stuff, so when he says that he has a surprise planned, I never think, "Oh, I'm getting engaged," or something like that!
So how did he finally ask?
Conrad planned a day trip to go island hopping on a boat and afterwards, we got back to the house and were going to do this quick photo shoot. So, I got ready and put on one of my favorite dresses, and I had no idea what was going on.
He hired our YouTube videographer to come up and film it, and she had been at the house for three days before we even got there, setting up and getting B-roll and drone footage. The house is actually a famous sun castle that one of Conrad's clients is the architect and interior designer of and owns it and he let us borrow it for the weekend, but it's like 15,000 square feet so you don't even see people anywhere, and I had no idea that our videographer was there. My family actually flew in, too, and they were hiding in the downstairs portion of the house!
Conrad proposed to me out in the palm garden, then took me downstairs to where my family was, so it was surprise after surprise! It was so thoughtful and over the top and fantastic.
How did you two meet?
Through mutual friends. We got set up fairly quickly after both of us got out of relationships—he was getting out of a five-year relationship, I was getting out of a really awful marriage. There were zero expectations and we were not looking at all, but it was something really special and magnetic right from the beginning.
Have you set a date yet or picked a venue?
For me, we're in the busiest time of the season so my brain capacity is at a bare minimum [laughing]. And he put so much work into the proposal, so we're just kind of enjoying the moment of being engaged. We like the idea of a destination wedding—we definitely want to make it something really creative and unique and kind of experiential for our guests.
Do you already know what you want your wedding dress to look like?
No! I've been so in the zone for my Spring 2020 launch. But there'll likely be more than one dress, and all the bells and whistles—everything and the kitchen sink!
Where do you find inspiration when designing?
One of the biggest things for me is the energy that goes into it. I consider myself pretty musical. I listen to a lot of music during my workday and my walk to and from work, and I feel like that vibe is really what sets the pace for the workday for me.
What kind of music do you listen to?
I'm a huge fan of classic rock—Led Zeppelin, Pink Floyd, Fleetwood Mac. But this season I've been into a little more country and kind of old school, backroads stuff—Marty Robbins, El Paso and all that kind of stuff. I'm really eclectic.
What upcoming wedding dress trends should we know about?
There are really no rules anymore. For me, I think the most exciting thing is to kind of be in the moment and be very mindful of your personality and what really speaks to you. One of the things we've been having a lot of fun with is interchangeability and having dresses that are essentially convertible, so maybe the overskirt comes off or you have some interchangeable element that gives you a different look from the start of the wedding to the finish of it—kind of more bang for your buck.
What about in bridesmaid dresses?
I think one of the biggest trends right now is sparkle. We're seeing a lot more expressive fabrics and novelties. I love that there's such a sense of catering to individual personalities in the bridal party; there's not such a tendency to have to be so matchy-matchy.
Do you have any tips for brides-to-be while shopping for their perfect dress?
I think what's really important is first enjoying the window shopping experience and getting a feel for what's out there and what you're gravitating towards. But the number one rule for me is that all bets are off until you are actually in an appointment trying dresses on. Don't be too married to an idea going in and be open to the possibility of falling in love with a totally different silhouette. I see so many girls that walk in thinking they want Jessica Rabbit, but then she picks a ballgown and all of a sudden it's Cinderella vibes across the board. So don't put too much pressure on yourself and even if you've been thinking of something since you were little, there's a chance that you might fall in love with something else.