Interview with Nic+Zoe Founders
Interview with Nic+Zoe Founders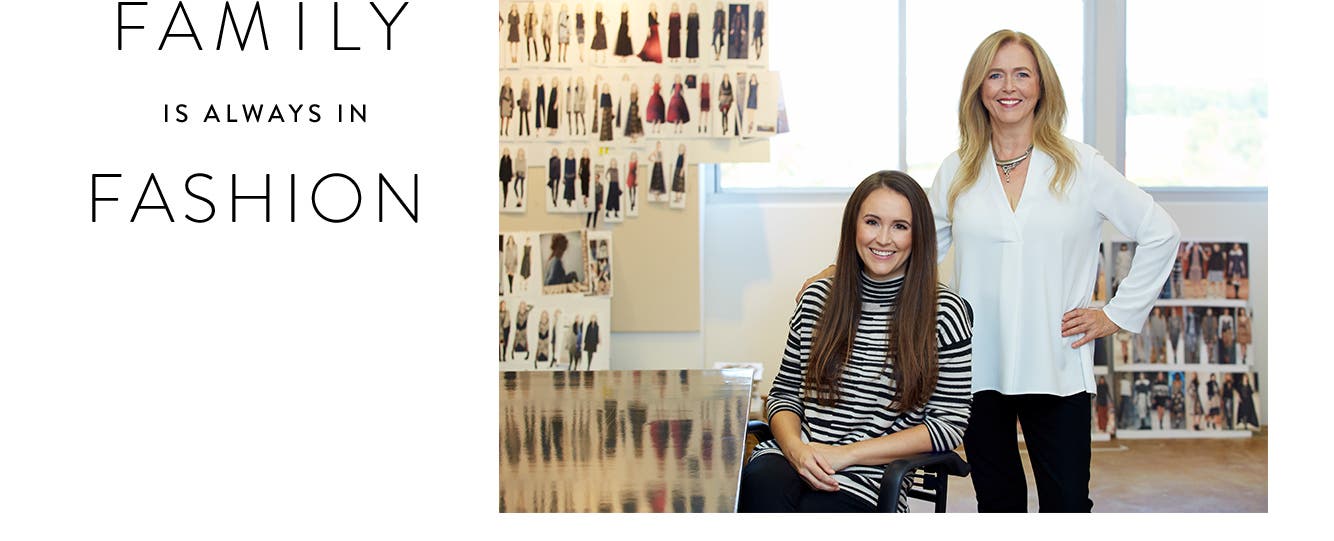 The mother-daughter duo behind knitwear brand NIC+ZOE open up about working together, their personal style and the next exciting chapter.
By Tessa Trudeau
What is the best part about working together?
Dorian: The best part is that we travel—we go to London and Paris and Asia together—and how fun is that, doing that with your daughter? It's such a wonderful thing.
Zoë: I would say having a relationship that extends beyond your typical mother-daughter relationship. I appreciate the time that we get to spend together.
What is the most challenging part?
Dorian: Not talking about work all the time! On the weekends, if we're having dinner together or are down on my farm, we have to be careful not to fall back into work talk.
Zoë, do you have any kids?
I'm actually pregnant right now!
Congrats! Do you think your future children might follow you into the business someday?
I don't know! What I realized with my mom was that there was no pressure to be involved in the business, and I don't even know if I thought that I would be. That allowed me to go my own way and think about what I wanted to do, and I realized on my own that it was a business that I was interested in and kind of got there by myself.
How do your skills and personalities complement each other's?
Dorian: I think we balance each other really well. Because I've been doing this for quite a few years, I really know, technically, how to make sweaters and fabrics, and I have the wisdom of what has worked in the past and what hasn't. And if I can speak for Zoë, her strengths have always been in merchandising. She's really got that merchant's eye and knack.
What piece do you suggest that's versatile enough to wear in and out of the office?
Zoë: The Wonderstretch pants are a really great basic. They're an awesome work pant but definitely something you can throw on with a cute, casual flat or sandals on the weekend and completely change how they look.
What's your office environment like?
Dorian: There's just a nice family environment here; it's very supportive. I have a farm on the south coast [of Massachusetts], and I'm down there Friday through Sunday, so I'm always bringing in produce to the office and giving it away—and I bring in eggs from the chickens.
What do you typically wear to work?
Zoë: We're definitely on the more casual side, so I'd say jeans mixed with NIC+ZOE for me. And I love everything from sneakers to heels; we launched shoes about a year ago, and it's been really fun to have those to pull from when getting dressed.
Dorian: I'm just a little more polished; I don't wear denim as much. I wear a lot of knitwear, so it's a top and a pair of our Wonderstretch pants. I'm NIC+ZOE all the way. We always say, "Head to toe, Nic and Zo."
Does your office style differ from your off-duty style?
Zoë: I'd say mine is pretty close. Women these days don't want two separate closets and to have to buy stuff for work and buy stuff for out of office, so versatility is really at the heart of what we do. So I just have my one closet that works for both.
Dorian: I'll second that. Except on the farm!
How do you like to relax outside of work?
Dorian: I do have to say that I love cooking. To me, it's a sport, and I love creating things from what we grow—everything from corn for polenta and cornmeal to potatoes and all kinds of veggies like tomatoes and zucchinis. It's really fun.
What's the best piece of career advice you've ever received?
Dorian: Keep it simple and know your customer.
Zoë: And stay true to your customer.