Interview with the ba&sh Founders
Interview with the ba&sh Founders
Le Rêve Bohème
The founders of French label ba&sh created their dream wardrobe and jobs
Quitting your job and launching your own fashion label with your best friend, when you both have no formal design training, takes a leap of faith. Fifteen years ago, Barbara Boccara and Sharon Krief did just that. They left their professions (Boccara in PR; Krief in law) to start ba&sh, a line of Parisian cool-girl clothes now at Nordstrom.
Their vision paid off because the two fashion novices became a sensation, first in France, then by taking modern French style international. As a measure of their success, in 2015, LVMH invested in the company, enabling Boccara and Krief to grow their business. "They believed in us and our vision of bringing our dream wardrobe to life," says Krief. Boccara adds, "In many ways, not having a traditional fashion background helped us because we have a clearer voice that's authentically ours."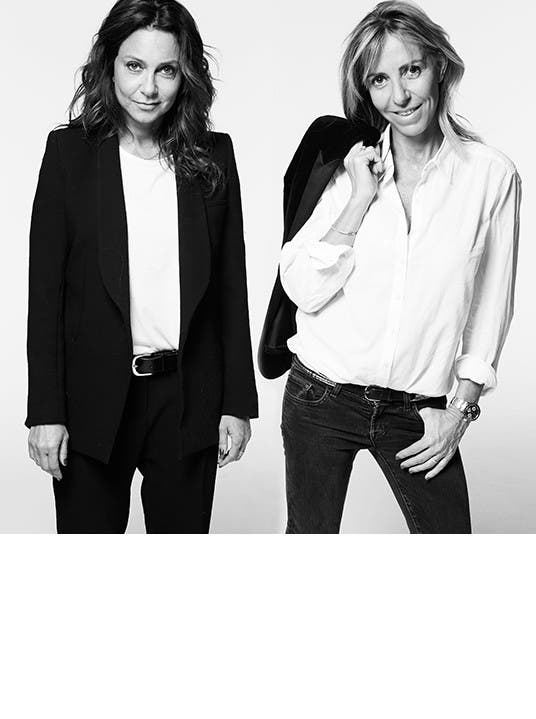 ba&sh designers Sharon Krief and Barbara Boccara

When the duo first concepted their label, they asked each other, What would be in your dream closet? "We started with a piece that is still in every collection we make," says Boccara, "a simple sweater with a low back, made in cashmere and silk. In our fall/winter 2018 collection, the Barmy sweater and Oure sweater are examples of this dream piece for us: simple and soft but with a uniquely cut back and special details."
To picture the ba&sh aesthetic, imagine the grown-up Sienna Miller, a polished Vanessa Paradis or the originator de la mode, Françoise Hardy. Each exudes a feminine rock 'n' roll air, a sense of daring, an insouciance. "We wanted effortless yet luxe materials and silhouettes that were really comfortable but always with something more, something unexpected in the design," Boccara says. "We try hard not to simply follow the trends," Krief continues. "We notice them and incorporate them when it makes sense, but our foundation is always an effortless French style, a confident and feminine sophistication."

Their line of edgy boho pieces combines their styles—and the first letters of their names—with a focus on colorful prints. "We often gravitate to different silhouettes because of our different body types, but we share a love for color and beautiful prints," says Boccara. "We have a dedicated prints design team and create all our prints in-house, inspired by various elements of nature, art, history and more." One printed style that's become both of their uniforms this fall is a surreal floral maxi dress. "We're both in love with our Disy dress, paired with a blazer or layered under a sweater," says Krief.
As if the two weren't already living a fashion fantasy, they spend part of the year in Ibiza with their design team planning the next season. "We try to shut down technology or anything distracting, and instead let ourselves be inspired by the beauty of Ibiza and the energy of our discussions," Boccara shares. "The free spirit, radiance and 'anything's possible' vibe of Ibiza inspires and challenges us."
Ibiza injects a chic hippie-party vibe to their styles. The brand's flowy dresses and peasant blouses would be welcome additions to a packing list for a stay on the Mediterranean island. But they are just as at home in urban environs.
"Paris is always the foundation," Boccara insists. "It's part of who we are, and we ensure we maintain the distinctly Parisian style."