Environmental Impact of Products & Services
Environmental Impact of Products & Services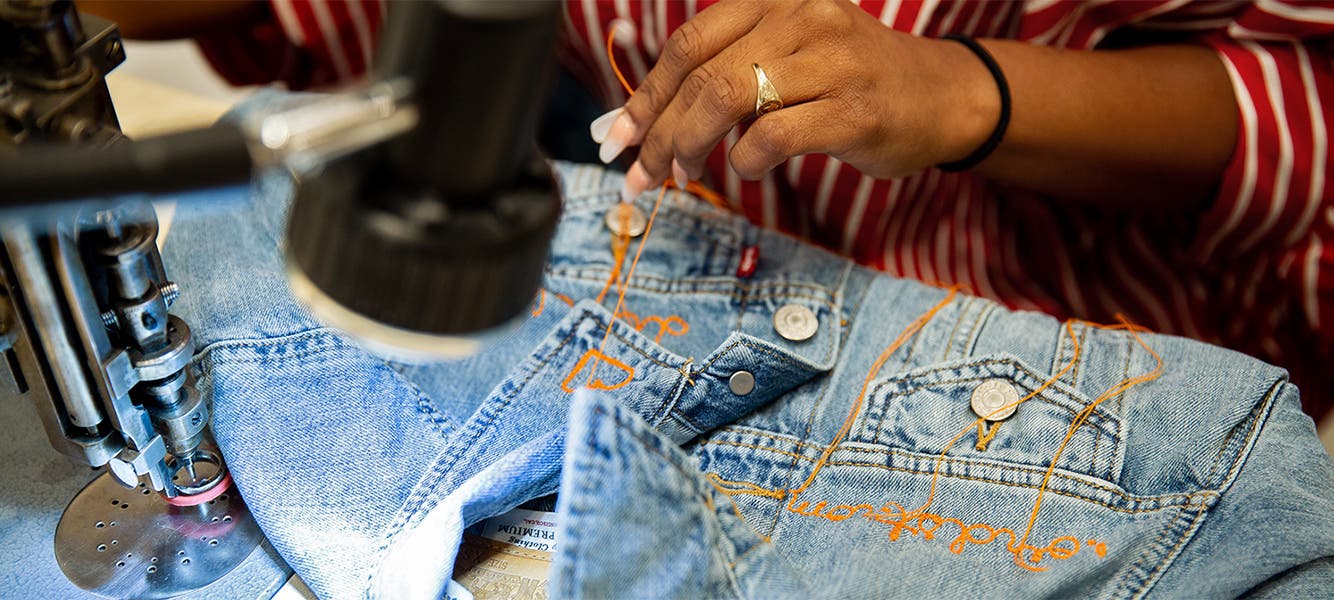 Reducing Our Impact
By making better choices in nearly every area of our business, including what we buy, how we make clothes and other items, and how we operate, we're able to decrease the environmental impact of our products and services. Our goals for 2025 are tracking progress toward three specific target areas, and teams across the business are maintaining the high standards we've developed while looking for new opportunities to improve.

More Sustainable Products
We're committed to increasing the number of sustainably sourced and made products in our assortment.
Show
Learn More About Sustainable Products
Products that are more sustainable are highlighted in Sustainable Style, which we launched in 2019. By focusing on products with sustainability attributes, rather than full brands, we hope to encourage all of our brand partners to join us and make progress toward more sustainable fashion, from any starting point.
By 2025, our goal is to ensure that 15% of our offering is made up of more sustainable products. To us, "more sustainable" means using sustainably sourced materials, making products in more socially and environmentally responsible factories, giving back to causes with every purchase, choosing minimal and recyclable packaging, or using sustainably sourced ingredients.
We're equipping our buyers with the tools they need to seek out more products like this, and we continue to work closely with our brand partners to ensure products with sustainability attributes are included in our category.
Details on the criteria we're using to evaluate more sustainable products are outlined on our How Sustainable Style Works page. Details about the sustainability attribute of a given product can be found in a bullet point in the "Details & Care" section on its product page.

Raw Materials
We're increasing our use of responsibly farmed, recycled and manufactured materials in the design and production of our Nordstrom Made goods.
Show
Learn More About Raw Materials
Choosing more sustainable fabrics and materials helps minimize one of the most significant environmental impacts of a product.
By 2025, our goal is to use sustainably sourced raw materials for 50% of Nordstrom Made products that are made primarily of cotton, polyester or cellulosic fibers. This means we're working on sourcing more organic and Fair Trade Certified™ cotton, recycled polyester (often made from used plastic water bottles) and fabrics like Tencel® and Modal® that are made from renewable raw material wood and manufactured in a responsible process.
Many of our brand partners are also using sustainably sourced materials like Econyl®, recycled cashmere and Responsible Down Standard certified down. Items using these materials and more can be found in Sustainable Style.

Single-Use Plastic
We're halving our use of plastic by eliminating plastic shopping bags and reducing poly bags where we can.
Show
Learn More About Single-Use Plastic
Our customers and employees have told us that plastic waste and plastic pollution are top environmental concerns, and we're making big changes to reduce single-use plastic across our business. By 2025, our goal is to reduce our single-use plastic by 50%.
After taking inventory of our plastics in 2020, we learned that half of our current usage comes from the plastic shopping bags we offer to customers at Nordstrom Rack. By switching shopping bags, we'll eliminate more than 450 tons of hard-to-recycle plastic annually.
We're also exploring other reductions, including for plastic poly bags, and we're increasing the amount of recycled content in the plastics we use where we can.

Supply Chain & Transportation
We're reducing excess packaging materials in our shipping protocols, encouraging vendors to use recyclable packaging materials and operating energy-efficient trucks.
Show
Learn More About Supply Chain & Transportation
Environmental sustainability is a key factor in ongoing decisions we're making in our supply chain, which includes our distribution centers, fulfillment centers and transportation in North America.
We're monitoring the number of plastic poly mailers that we ship to customers, and we're exploring nonplastic alternatives to avoid sending hard-to-recycle materials to customers' homes. We're using auto-boxers to reduce empty space in outbound corrugated boxes. And we continue to use a circular hanger solution as we transport clothes to and throughout our stores. By using a standard black plastic hanger, if or when they break, we're able to sell the material back to our vendor, and repurchase new hangers made of recycled materials.
We maintain preferred packaging standards for a number of inbound products from our brand partners, including for shoes, where we ask that brands minimize the packaging inside shoe boxes, known as dunnage. Our preferred shoe packaging is paper-based product that includes recycled content. This makes it easy for us to recycle the stuffing before we put shoes on our shelves, or easy for you to recycle it at home.
In our tractor fleet, we regularly retire aging tractors in favor of new, energy-efficient models. In 2019, we replaced 32 of our 136 total tractors with the latest in engine technology. These changes allowed us to improve our miles per gallon by 2.1% on average, on all trucks. In Southern California, we continue to operate three tractors that run on compressed natural gas.
For the third consecutive year, Nordstrom received the SmartWay Excellence Award for Shippers and Logistics. The annual award recognizes SmartWay partners achieving strong results in their efforts to reduce emissions through collaboration, advanced technology and operations, and regular data reporting. We also received this award in 2014..

Nordstrom Made Supply Chain
We're continually measuring and improving the environmental and social sustainability of the factories making our Nordstrom Made goods.
Show
Learn More About the Nordstrom Made Supply Chain
As members of the Sustainable Apparel Coalition, we use the Higg Index to guide and drive improvements in our supply chain and elsewhere in our business. The Higg Index is a suite of tools that helps brands and retailers measure and improve environmental and social sustainability.
We've significantly expanded the use of the Higg Index Facility Environmental Module across our Nordstrom Made factory base. In 2020, 64% of our product volume was made in factories using the Higg Index Facility Environmental Module, with 36% completing verification. In 2021, we expect 100% of our product volume to be made in factories using the Higg FEM.
We're also improving the packaging we use in our Nordstrom Made supply chain, including testing new poly bags with a higher proportion of recycled content.

Chemicals
We regularly test our products for banned or restricted substances and expect our vendors and suppliers to follow safety guidelines that prevent the release of hazardous materials.
Show
Learn More About Chemicals
Nordstrom Product Group (NPG) adopted the American Apparel and Footwear Association's Restricted Substance List (RSL) in 2010, and we test our products for banned or restricted substances. This RSL is updated regularly to include new information about the substances and amount of substances that are permitted in finished products.
Through our Partnership Guidelines, we ask our vendor and supplier partners to maintain policies and procedures to safely store, prevent or mitigate releases of chemicals and hazardous materials.
Additionally, all of the cleaning supplies we use in stores are low- and non-toxic products.

Food & Coffee
We're committed to offering sustainably produced foods and beverages in our restaurants and coffee bars.
Show
Learn More About Food & Coffee
Sustainably Sourced Food
Our produce is local and organic whenever possible, and we feature seasonal ingredients on our menus. This supports local farmers, minimizes greenhouse-gas emissions during transport from farm to table and provides our customers with the freshest choices.
We source 100% cage-free shell eggs and 100% cage-free liquid eggs (all egg whites). When eggs are used as an ingredient, we ask all of our suppliers to adhere to our 100% cage-free egg policy. We source only wild-caught salmon from Bristol Bay, Alaska. Wild salmon, as opposed to farmed, offers higher nutritional value and helps maintain natural wild fish stocks.
Whenever possible, we source from suppliers who use the most humane processing methods commercially available. All of the turkey we use comes from suppliers that use CAK processing.
Ethically Sourced Coffee
All of our coffee is ethically sourced, which means it comes from farms that are protecting the environment and supporting sustainable production. We offer six types of ethically sourced coffee:
• Direct Trade: sustainably grown coffee that is verified and measured using third-party data and sourced through direct, long-term relationships with coffee growers.
• Organic: coffee that meets the USDA certification as organic and is grown using only natural methods that promote long-term sustainability of the ecosystem.
• Fair Trade Certified™: coffee that is sourced in compliance with rigorous social and environmental practices and local labor laws.
• Rainforest Alliance Certified™: coffee that is sustainably grown to benefit farm families, wildlife and the environment.
• Traceable Micro-Lots: traceable coffee that is produced in small batches, selected specifically for its special characteristics and sourced from a single coffee grower or individual plot of land.
• Women Grown: coffee sourced directly from women coffee growers, women members of coffee cooperatives and communities that promote gender equity.
Healthy Choices
We work hard to provide customers with choices that are delicious and nutritious, and we use foods without unhealthy additives.
• We do not use liquid dairy products produced with bovine growth hormone (rBGH).*
• We do not use hydrogenated and partially hydrogenated fats and oils—the root source of unhealthy trans fats.
We support the federal government's standards for food-content reporting, and whenever possible we share even more information with our customers about the foods we offer. Pamphlets with nutritional information and calorie counts for all our menu items are available in every restaurant and specialty coffee bar in our company.
*Except in Hawaii
Waste Reduction
We aim to use more sustainable packaging and manage our waste responsibly as well.
• Where local composting facilities exist, organic recycling programs in our restaurants convert waste to compost.
• All menus and printed materials in our restaurants and coffee bars contain a minimum of 30% post-consumer recycled content.
• We use a commercially compostable disposable cup called the ecotainer®.
• Commercially compostable straws are available at our restaurants, cafés and Ebar.
Through our Partnership Guidelines, we ask our vendor and supplier partners to strictly adhere to codes or practices that meet or exceed international, national and state government standards for animal welfare in food service.

Animal Welfare & Fur
Through our policies and commitments, we strive to support fair and humane animal welfare practices.
Show
Learn More About Animal Welfare & Fur
Through our Partnership Guidelines and our Exotic Animal Skin and Fur Free Policy, we are working to address the treatment of animals in a variety of ways.
Apparel, Shoes & Accessories
In response to our customers' requests, we're committed to eliminating merchandise made with animal fur or exotic animal skins across all Nordstrom, Inc., stores and online by the end of 2021. This commitment was made in partnership with the Humane Society of the United States.
Our fur policy is in alignment with the Fur Free Alliance's guidelines and bans animals killed solely for the use of their fur, including (but not limited to): mink, fox, lynx, chinchilla, rabbit, coyote, astrakhan/karakul lamb, kangaroo and racoon dog. Our exotic animal skin policy bans any animal skin or leather not derived from cow/calf, sheep/lamb, pig, goat or water buffalo. This includes (but is not limited to): lizard, snake, python, alligator, crocodile, ostrich, shark, kangaroo and stingray.
We continue to ban products that contain materials from vulnerable or endangered species, including bone, horn, shells and teeth.
Beauty & Skin Care
You can find cruelty-free beauty and skin care products in our Natural Beauty & Wellness assortment. For specific questions about cosmetics brands and whether they use animals for testing, we suggest that you contact the manufacturer directly.

Paper
We're continuing to reduce our paper usage overall, choose recycled paper content and encourage our customers to recycle too.
Show
Learn More About Paper
Using paper responsibly is part of our ongoing efforts to conserve natural resources. From 2015 to 2020, we made a 23% reduction in the paper we use per million dollars in sales. Moving forward, we aim to continue using paper responsibly, including by increasing the amount of preferred content, either recycled or certified, in the paper products we buy.
Our Nordstrom shopping bags contain more than 50% recycled content and are printed with water-based ink. Our corrugated shipping boxes, which make up our largest packaging material by weight, contain at least 30% recycled content. As we transition to paper shopping bags at Nordstrom Rack, we will continue maintaining a high proportion of preferred content.
We encourage customers to recycle paper, corrugated boxes and any other paper-based packaging at home.
Through our Partnership Guidelines, we ask our vendor and supplier partners to comply with applicable environmental laws and commit to practices that preserve natural resources.

Water
We are committed to continue reducing water use in our owned and operated facilities year over year. We've lowered water usage in our stores, offices and distribution facilities, and we're working to reduce our water use in facilities that make Nordstrom Made goods.
Show
Learn More About Water
Water conservation is important to every part of our supply chain. At our stores, offices and distribution facilities, we conserve water by using careful landscaping, regulated flow toilets and waterless urinals in our newer facilities and stores. In 2020, we used 240,381 kilogallons of water in our owned and operated facilities—a 30% reduction from 2019.
Though Nordstrom Product Group (NPG) has a limited number of products that require wet processing or washing techniques, we still believe that we should understand and decrease our water use in facilities that make NPG products. We're collaborating with other manufacturers in those factories, and we're using tools including the Sustainable Apparel Coalition's Higg Index to monitor water usage and find opportunities for reductions.